Be a Part of Our Roster of Dependable Bus Drivers
At Lanpher's Transport, Inc., we are always on the lookout for exceptional people for our team.
If you are serious about the safety of children and want to work in a fun environment where your skills, ambition, and hard work will be recognized, then this might just be the right place for you.
Currently, we are looking for people to fill the following positions: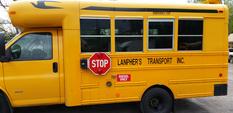 Are you interested in being a school bus monitor? We are currently taking applications.
Our ideal candidate shows up to work regularly and on time, likes children, and is willing to put the kids' needs and safety first while having fun.
Candidates need to be at least 19 years old, be able to lift at least 40 pounds and pass a physical performance test, be able to pass background checks, and meet other criteria set forth by federal, state, and local laws, as well as our various contracts, including the ability to read and speak English.
Most school bus monitors start out part-time and then move to full time.
If you are interested, please use the button below to link you to a form: